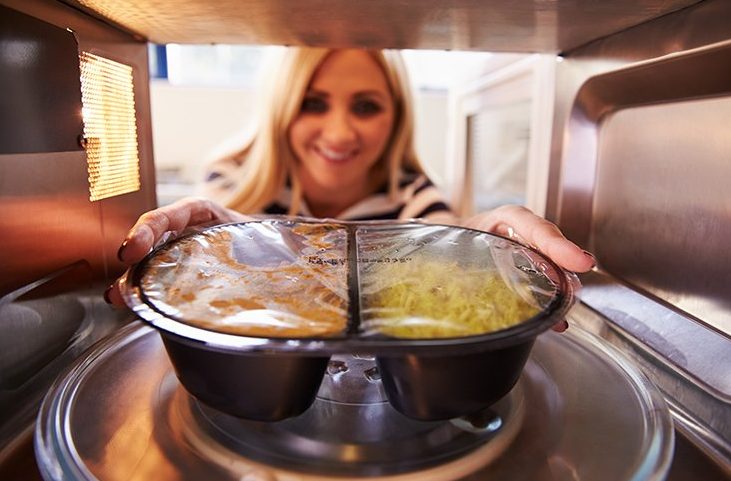 Cooking meals in your microwave is actually a quick and healthy way to prepare meals. It helps your food retain nutrients that breaks down over longer cooking times. For most recipes, you would not need to use oil to cook your food. This means less fat in your meal. The secret to cooking meals in your microwave is understanding how power levels and time works.
Microwaved food doesn't have to mean processed food. You can cook meals in your microwave using ingredients from scratch. It's also a great way to add a little more nutrition to an otherwise unhealthy meal.
While we don't advise you to eat microwaved meals all the time, this is a great solution for busy college students!
Upgraded instant ramen
Do you love instant ramen? While it's not good to eat it all the time, add an extra boost of protein by adding an egg! To cook ramen in a microwave, reheat two cups of water in a bowl or measuring cup for about one minute or until it's really hot.
Add your noodles and cover for about three minutes. Add the flavoring to the bowl and pour your cooked noodles and hot water. Finally, crack an egg into the bowl. Cover and let it poach or stir it in with a fork to get egg ribbons. Enjoy!
Scrambled eggs
This is a fairly easy recipe. Line the bowl with cooking spray, cooking oil, or some butter. Crack an egg or two into the bowl and whisk for one minute. Add salt to taste. For fluffier scrambled eggs, you can add more egg whites.
Finally, place the bowl in the microwave and turn it on high for 1 minute. Watch it carefully! Don't let the egg puff over the edges of the bowl and explode. When done, carefully remove the bowl and add any toppings you like. You can add things like vegetables or a meat of your choice.
Steamed fish
Steamed fish in a microwave is easier than you think. You just have to make sure you're using boneless fish. Place the fillet on a microwavable dish and season it. Salt and pepper are common, as well as lemon juice, but feel free to get creative.
Add a tablespoon of liquid to keep the fish moist while cooking. Water, white wine, fish stock, a citrus juice, or even milk would be an interesting choice. Cover your dish with a microwave-safe lid or plastic wrap to make sure no steam escapes as you cook.
Heavier fish would take up to 5 minutes while lighter fish would be done in 3 minutes on a 1000-watt microwave. If it's not yet done by that time, microwave in 30 second increments and check in between. Allow the dish to cool before removing from the microwave. Enjoy!
There are many other things you can cook in your microwave as long as you have understanding of the basic principles of cooking in one. If you're looking for a microwave for your dorm, visit your local EMCOR store or check your options on the EMCOR website!